Would you like to drink structured water with a pleasantly smooth taste, no matter whether you are at home, in the office, or traveling? Our CHI EnergyCard is a practical solution appreciated by many customers.
Water structuring – water stimulation – water vitalization  
… these are terms today frequently used synonymously to describe processes which excite water in order to recreate natural hexagonal clusters on a molecular level.

As our tap water is forced through miles and miles of pipes using high pressures, its natural order and vitality may well be degraded severely.  
Within seconds, our CHI EnergyCard transmits information pulses which excite the water so that its full life-spending vitality and healthy structure are regenerated.  
Tap water crystal (5000 times magnified)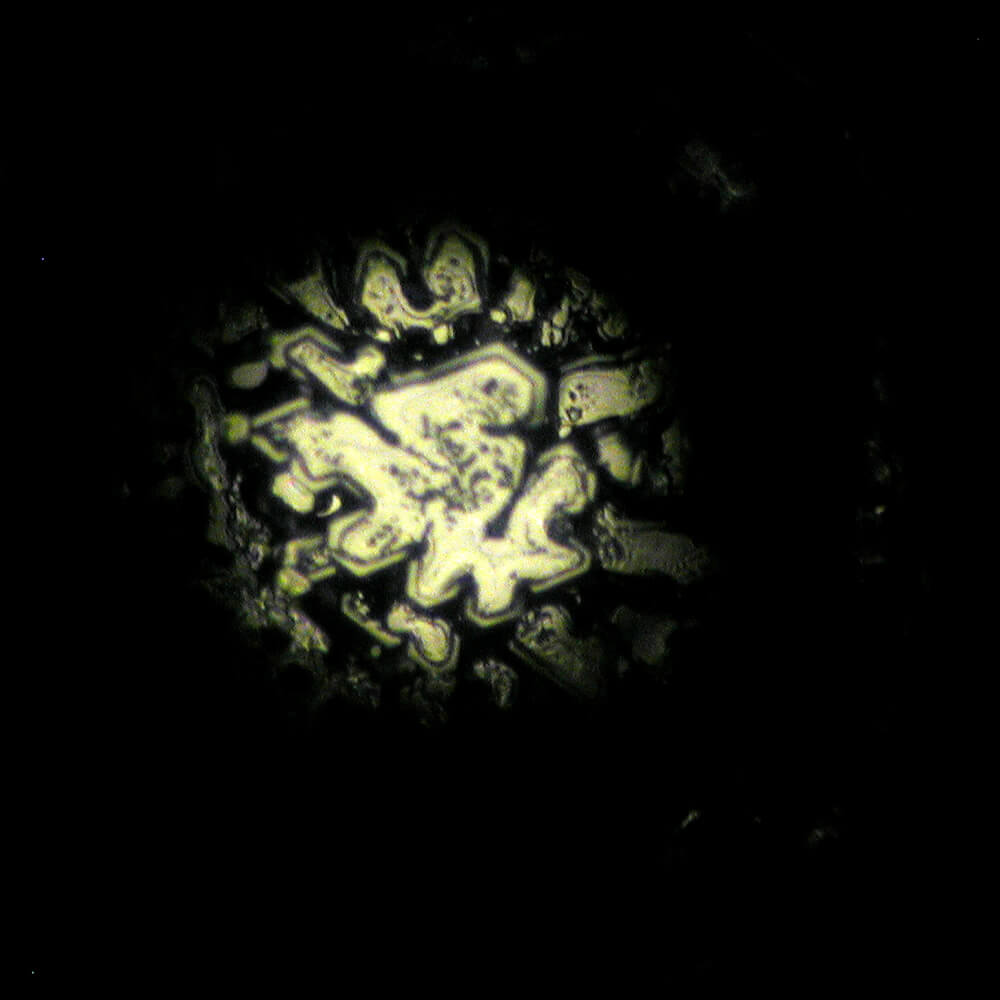 WOW… the Chi card. Where do I begin? A lot of benefits!! I have been sleeping better! I put the card under my pillow each night and I have begun sleeping through the night again after several years of waking up intermittently throughout the night.
I also put it under my purified water each day and I find the water actually TASTES BETTER.
I have also had hip pain for several years and I take the card with me on my walks and I find that my hip pain is no longer bothering me like it used to.
I feel calmer. I feel more 'in tune'.
I can honestly say that getting the card was a GREAT decision. Thank you from the bottom of my heart for sharing this with the world. Bless you!!
Kerry (Hawaii)
Simply delicious … ever since we started using the CHI Card, we have been drinking a lot more water. Extremely delicious and you do not feel stuffed after drinking 2-3 glasses. Thanks a lot!
Gehrmann family, Heilbronn (Germany)
Food stays fresh longer. I have placed a second Chi Card in the lower area of my refrigerator. It looks like the food products, in particular milk, stay fresh longer. This is somehow crazy …
Th. Gerlach, Berlin (Germany)
The water tastes better. I first came across the chi energy cards in your book "The Healing Power of Energized Water". What I like about them is that they are portable and affordable. As for how they work, I've done taste tests on the water with friends and family and everyone agrees that the water tastes better… somehow "softer" when energized with the chi cards. I use them all the time. I have one at home and one at work. When I give the water to my cat, she stares at the water for a long time before drinking it and I always wonder what she sees. Then she drinks it all up …. Loraine in Cleveland, Ohio.


The efficiency of many bioenergetic and quantum physics methods and technologies is still considered unproven according to scholastic knowledge. The same applies for CHI EnergyCards. See legal notes